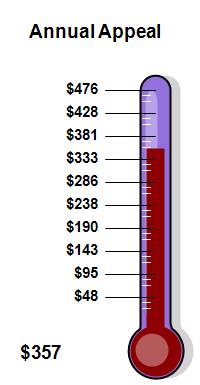 Participation
(Goal = 100%)
Annual Catholic Appeal

Your gift to the Annual catholic Appeal supports over 60 ministries and services in our Archdiocese such as these. To learn more about the ACA, click here.
What is the difference between the ACA and Sacrificial Giving?
What happens if we exceed our goal?
Every dollar given over and above our goal is returned to us by the Archdiocese for our own parish needs. Each year our parish goal is 100% participation. We reached are goal and then some last year and our rebate went towards upgrading the upstairs school flooring. This year if we can reach and exceed our goal, we will be upgrading the church sound system. So please give what you can. Every bit helps! If you just can't give, please mark pray on the envelope. That's participating too. As long as you respond in anyway, that's participating. Thank you.
---
Some of the 60 Ministries Supported by
Your Generous Donations

Priesthood, Diaconate and Religious Life

Vocational retreats and camps
Seminarians for the Archdiocese
Transitional Deacons to be ordained in June 2017

Catholic Schools

High schools and elementary/middle schools serving tens of thousands of students in a safe, accepting environment.

Catholic Community Services


Serves over 125,000 people each year through more than hundreds of programs
PREPARES program to support families with children from birth to 5 years
Over a million hours of in-home care services provided to home-bound seniors
Thousands of permanent housing units for adults, families, seniors and people with special needs

Youth and young Adult Evangelization

Over a thousand high schoolers attended the annual Youth Convention
Over 15,000 participants in CYO athletics
Over a thousand CYO campers